Attention All Women Cancer Survivors:
One-Day Fly-fishing Retreat - August 5, 2023
Beach Lake Lodge, Chugiak
Applications Due: July 17, 2023
WomenLISTEN, Inc., is excited to resume our popular annual fly-fishing event! This one-day retreat—limited to 10 women—is available free of charge to women who have had a diagnosis of any cancer. Retreat facilities are rustic. Come prepared to have an enjoyable, active, fun-filled day, packed with laughter and information as you build a supportive and empowering network through talking and fly-fishing activities, including fly casting and float tubing on a lake. We have fishing gear, including float tubes, fins, rods, reels and waders, with sizes to fit most. If you have a canoe or kayak, you are welcome to bring and use it. No pets, alcohol, tobacco or smoking.
Application Review Process
Preference is given to:
Women who have had a cancer diagnosis and have attended Women LISTEN group meetings held on Fridays on Zoom from 10-11:30 AM and who have never attended the fly-fishing retreat previously.
Women who have had a cancer diagnosis but have never attended Women LISTEN meetings.
Women who have previously attended a fly-fishing retreat may apply for the retreat, but they may only be accepted if fewer than 12 women from the top two priority groups do not fill the designated spots.
All women who apply for the retreat must be able to easily walk at least 50 yards, be able to ascend and descend stairs and able to stand for periods of time, be able to lift and cast a fly rod, be able to use both legs to fin in a float tube, and verbally communicate in English.
COVID Precautions
Because people with cancer may be at higher risk of serious illness, we request all participants be vaccinated and agree to basic COVID-19 precautions, as described in the Application[pdf].
Please contact Jan Wachsmuth for more information.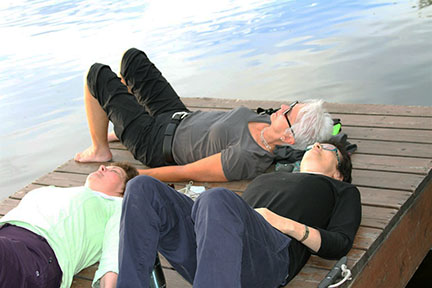 Past Retreat Participant Comments and Pictures
There was such warmth and kindness in the room.
I was overwhelmed with love and generosity from total strangers.
Women LISTEN and the retreat gave me hope and to keep moving forward.
Sharing our stories and being open about our personal lives helped to make connections with each other.
I never could see myself fly-fishing and now I sure can.
I found a new way to get outside.
I found I can walk more and I was complimented a lot on my learning. I was afraid it would be too much.
I learned the zen of fly-fishing.
This is the first time in my life I've been called a "dollie". (type of fish)
Good thing about the retreat? Getting to hang out with girls.
The only "have to" was to show up. That was so cool.
It's so nice to feel taken care of – the surroundings, the food and the people.
I was overwhelmed (positively) by everything.
It was a luxury to be taken care of.
Good thing about the retreat? I learned a totally new skill and had everything taken care of!
It was great to have so many instructors with such enthusiasm, patience and passion.
I learned about these people and what a wonderful group they are.
I gained hope, inspiration and the ability to forgive.
It lifts you up.
I got in the float tube and actually did it! I can't swim a lick and I did it and it was the best day of my life.
I hadn't been in a canoe for a bazillion years and we did it. Paddling in the canoe was lots of fun and it was great to know I could do it again.
I really enjoyed the people I met. There's not one person here that I haven't enjoyed visiting with, gotten something from and I would enjoy seeing again.
The most memorable moment included sharing and storytelling that brought us closer together. I especially enjoyed the relaxation exercise on the dock.
The experience of being on the water was restorative.
I loved being able to share my condition with people who understood and didn't back off.
I'm starting to understand my new normal and it is OK to be me.
It was a peaceful space and I was able to relax and connect. The experience was powerful because it allowed connections on many levels. We cried and laughed and learned a lot about fly fishing and even more about life.
I loved all aspects of the retreat including casting, knot tying, and crazy game last night.
I liked meeting new people and learning how to float tube.
It was a time to relax and recharge the life batteries for my new normal.